Open your mind
It's time to travel the world with us
We are experts in exclusive small group tours.
Here's what we can do for you.
We can organise all your travel needs
We are a full service travel agency. We can book your flights, organise your transfers and so much more. From helping you plan your rail trip, to getting the best value for money on accommodation and car hire.
Don't forget your travel insurance. We'll make sure you have the best coverage.
We can take you on the holiday of a lifetime.
Our Spice Trails Tours are exclusive small group tours of no more than 10 lucky clients. Our first tour was to the emerald Island of Sri Lanka, closely followed by our extraordinary adventures in Iran then Uzbekistan.
Later this year we will be off again to India, Japan, Kyrgyzstan and Sri Lanka.
We had the most amazing trip to India. Paul made sure that everything was organised for us and we didn't have to worry about a thing. What a way to travel!
Why do I need a travel agent? Can't I just book everything online myself?
Well, yes you can. But here are 3 very good reasons why we think you should consider booking through us –
Our Experience
With over 25 years experience in retail travel and more than 40 years of personal travel experience, we know the smartest ways to travel.
Our Guarantee
We can get you out of sticky situaltions and help you avoid the pitfalls of inexperience.
Without a travel agent, you're on your own.
Our Travel Tips
When you book with us, we can give you great advice for your trip from our many years of first hand experience. From what to pack to what kind of insurance, we have the best advice.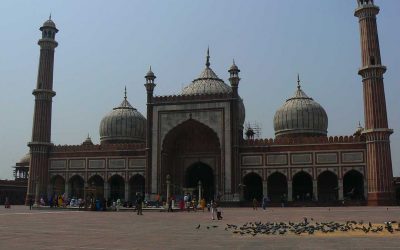 Early on in our tour of Rajasthan and Ladakh in September we will be visiting Dehli, which from all accounts is a city that spans the centuries and merges the old world with the new. It's a huge sprawling city that is basically divided into two parts – New Dehli and...
read more
We'd love to keep you up to date with all our latest adventures. Make sure you don't miss any of our special offers or tour sign-up deadlines!
Located in the heart of beautiful spa country, our Daylesford Agency has grown from its humble beginnings in 1999, servicing just a few loyal local clients, to now expanding our reach in the digital age to include an ever growing list of new clients living interstate and overseas.
We aim to exceed your expectations by delivering exceptional personalized service that will make your travel experience with us one to remember.
We believe worry free travel begins with good planning – it's all about the detail. Once the journey begins and we are on tour, we encourage our clients to travel with patience and an open mind. There's a whole world of experiences out there waiting to be had!
At Daylesford Travel, we have created a business that allows us to indulge our passion for travel and the best part is that we get to share that passion with our clients!
With over 25 years of travel industry experience Paul knows a thing or two about the travel business.
His favorite places to travel are the Indian subcontinent and Central Asia. The more exotic the location the better.
Never without his camera on a trip, you can see his passion for travel and photography are well matched.
The gallery below showcases not only this passion, but the amazing experiences Paul has had during his time as a Travel Agent.
Days left until we leave for Rajasthan and Ladakh
We can't thank you enough for all of your help in putting the itinerary together; it could not have been any better. We saw and experienced so many things, it truly was a dream holiday. Thank you!
We'd love to hear from you.
Pop in to say hi at Shop 4
22 Howe street, Daylesford.
Call us on PH 61 3 53484266
With 25 years of travel experience behind them Daylesford Travel pulls together the best itineraries to make the most of the countries you want to visit. They specialise in small group tours of no more than 10 lucky clients.
Shop 4 
22 Howe Street,
Daylesford Victoria.
Office Hours - 
Monday to Friday 9.30am to 4.30pm
Saturday by appointment
ph 61 3 53484266
holiday@daylesfordtravel.com.au